Love is love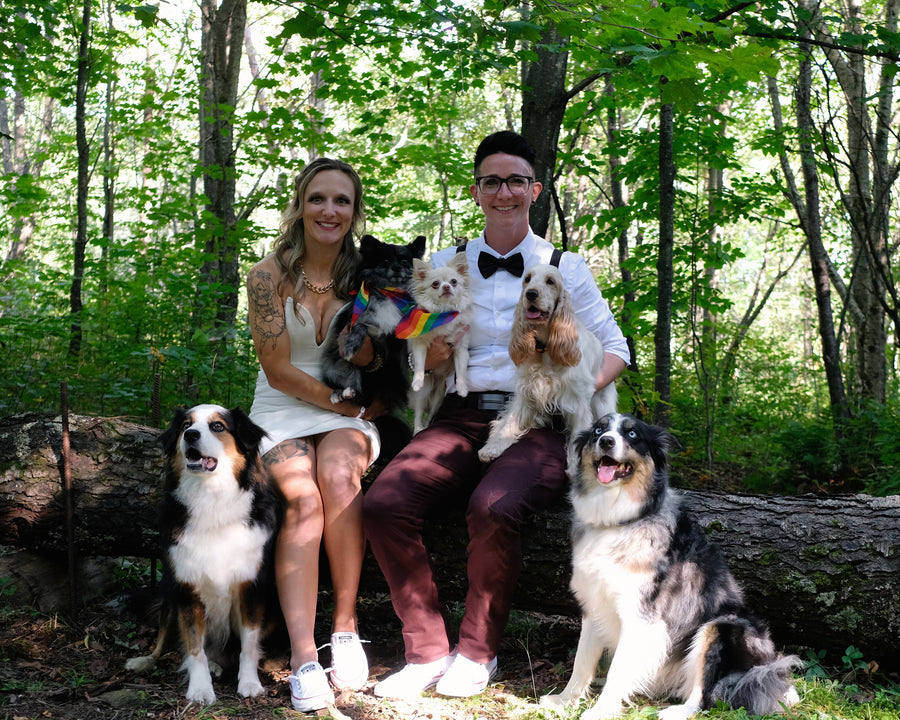 A little more about me... about us...
On September 3, 2022 I married my best friend, my confidante, my work colleague, my partner in crime, my wife. It's really not easy to find/meet someone when you're an entrepreneur because you work all the time. I work all the time. But I love this. This is my passion.
"Choose a job you love and you will never work a day in your life."
Alexe entered my life accepting me as I was with my ADHD, my hyperactivity on the mat, my passion for dogs, and my love for my work. So there was no way I was going to let her go, so I married her. We only have one life to live so we might as well live it well.
Poor thing, she had a cat... she ended up with a crazy dog ​​lady. Then finally she not only adapted, but she knew how to surprise me by boarding the boat head first. She got involved with me with Énergie canine Estrie and I can now share my project, my dream with someone.
She follows me in my dog ​​competitions, in my different events, in my travels, in my madness.
Of course it wasn't easy at first, in fact to be honest I couldn't even count the number of pieces of toast or sandwich she had stolen by my dog ​​scroungers who clearly saw that she didn't know much about dogs. In the end, they just seized opportunities after all. So you will understand that my dogs LOVED Alexe and I laughed far too often until my stomach hurt when I saw her realize that she had [again] had something stolen.
At our wedding there were around thirty dogs, no less. It was a beautiful day, surrounded by the people we love and dogs.
Today Alexe is an integral part of Énergie canine Estrie. She helps me grow, she helps me develop, she brings her ideas and suggestions. She takes care of clients and their dogs with love. I never thought I would be able to share my project with anyone. I am very happy that she is part of it from now on.
---